8 smart storage ideas for every family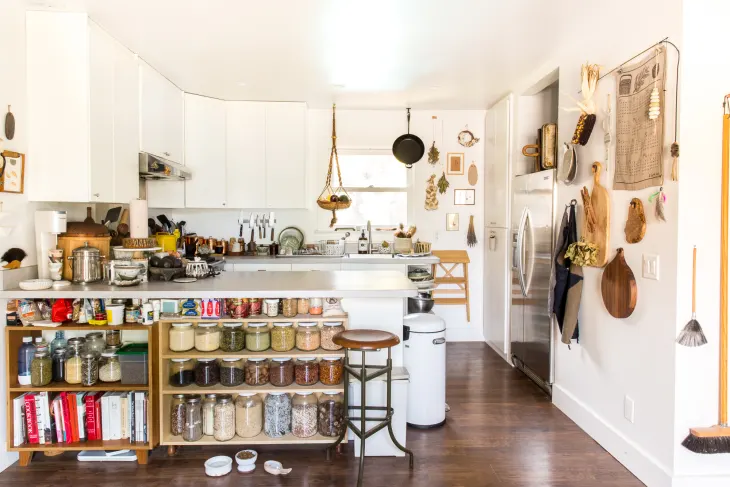 The pandemic may have brought our attention to the necessity for storage solutions in every room of your house. We've all spent a lot more time at home in the last year or so, organizing and tidying our homes, but now that life is getting back to normal, the clutter may be sneaking back in.We're always dealing with space constraints. Nothing ever seems to fit perfectly.
There are far too many clothes, shoes, and cutlery, and there isn't enough room to fit it all in. The good news is that you can make room for thin air. So, if you want to stay on top of things, you'll need to invest in outstanding storage solutions: ones that are both functional and attractive and that complement your space. We've compiled a list of our favorites below.
Investing in a couple of living room storage cabinets-
The living room storage cabinets are one of the most important pieces of furniture in the living room. Storage cabinets for living rooms are an essential element of storing materials that are regularly required, especially with all trendy living room chairs and display pieces.
There are a number of uniquely designed wall storage cabinets available in the market that are good for your living room as they can be used for both displaying and storing your showpieces and other art pieces.

Also, you can have customized wall storage cabinets made that suit the décor of your home and are multifunctional as well. Furniture customizations allow you to deck up your homes with the furniture that you like, according to your liking and needs. You could need a small storage cabinet in place of a larger one, assess your requirement carefully and then get the customization done.
Invest in sideboards and storage cabinets for your kitchen-
A sideboard is a typical storage cabinet that has potted plants, vases, small paintings, and photographs on top and large objects inside the lockers. They're perfect for bringing vitality to drab spaces near the dining table. Sideboards are much more cost-effective and efficient than built-in storage. Double-duty woodenstorage cabinets are ideal for storing wine glasses and keeping bottles. Also, using wooden dining room cabinets will provide your home with a neat and consistent appearance.
Invest in the customized cupboard for storage–
A lot of people belief that adding cupboard for storage is very basic and mainstream. But you can't deny the fact that cupboards are the most helpful pieces of furniture when it comes to storing all of your belongings and keeping the space clutter-free. However, if you are not fond of the basic cupboards that are available in the market, you can get yourselfa customized cupboard for storage.
You can get your cupboard made with the base material you like. It can have a modular or a vintage look, all based on your own taste.
Also, as each of our homesis unique, our storage requirements are quite different too. Getting customizations done with cupboards enables you to have the furniture made according to your storage requirements to serve your purpose.
Consider combining wall mounted shelves and a sliding door-
You could install narrow shelves on one side of your passageway and cover it with a well-finished sliding door if your passageway is large enough.
We often neglect the hallway, despite the fact that it may be an excellent storage option for shoes, umbrellas, coats, and even toys that children require for outdoor play.
These wall-mounted shelves ensure that your belongings are not on display and are stored behind an enclosed and private sliding door. That way, you can store your stuff as well as maintain your privacy.
Choose pieces of furniture that are multifunctional.
When it comes to storage, you may need to think outside the box if space is limited. There is certainly a need for multifunctional workstation solutions for those who are working from home. A compact side table serves the same purpose as a full-sized workstation while taking up less space. If more space is needed, the kitchen table can be used, but the side table has enough surface area to fit a laptop and shelf below to keep work items. It can also be kept to one side outside of 'office' hours so that the small home office ideas don't feel overworked.
Make use of the space behind the doors.
Although it appears to be self-evident, how many of us fail to notice this tactic can be used in areas other than bathrooms? In compact spaces, all doors provide essential storage space. It's never been easier to make more use of this wasted space with so many clever storage units and solutions available in the market. Use the back of the door as a spice rack or hang cleaning supplies out of reach of children in the kitchen. Hanging all kinds of accessories, cosmetics, and a handy mirror on the back of the door is a great bedroom storage solution.
Invest in storage that is fully fitted-
Choose bespoke built-in storage units to solve the problematic nooks in your living area. In a tiny lounge, this can be extremely useful for utilizing the full wall, from floor to ceiling, to maximize the little storage space available.
No space is wasted when furniture is custom-made to fit, and floor-to-ceiling arrangements make the most out of the room's height. Choose a combination of shelves and cupboards to provide show space as well as a place to hide the items you don't want on display.Paint or lacquer the doors the same color as the wall to help them blend in, or go bold with bright color and open shelving to make a statement.
Organize your belongings by storing them under the sink.
Bathroom storage options are crucial for keeping things neat, tidy, and organized. Bathrooms can be particularly tight, and storage space available can be scarce, but there are still possibilities. You could install shelves above eye level or down to maximize the space beneath the sink or even behind a bath panel. These units are ideal for rental areas because they simply fit around an existing pedestal.
You may have properly planned out the interiors of your home, but junk still manages to find its way in. Instead of stacking boxes or using unattractive plastic trays, consider some of our ingenious storage ideas to save space in even the smallest of spaces. With the well-thought-out and space-saving storage solutions mentioned above, you can make every inch of your home look great. Take control of your belongings and relocate them to hidden or well-organized spaces so that your home appears to be clean and clutter-free.