The Ultimate Guide To Biker Jackets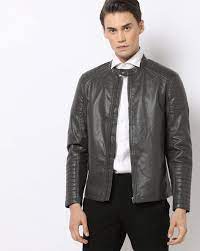 What Is The Purpose Of The Biker Jacket?
Heavy-duty motorcycle jackets designed to protect damage and experimental, avant-garde fashion items are examples of biker jackets. Biker jackets are warm and windproof, and they are worn for protection during rough outdoor activities and by motorcyclists. The majority of motorcycle jackets are now worn as casual wear. The motorcycle jacket is a very durable item, and the more it is used, the more appealing it becomes. Soft leather motorcycle jackets, such as sheepskin, mould your body and become very personal valued belongings.
Although the biker jacket retains powerful symbolic associations, it has grown universal during the previous century. Motorcycle riders still wear biker jackets, but models, movie stars, and retired instructors. In all their countless variations, Biker jackets are worn by individuals of all walks of life all over the world.
What Makes The Biker Jacket So Popular
The cropped style of the leather jacket was initially designed for motorcyclists and, yes, biker gang members to allow them to bend over their bikes easily. Simply said, the biker jacket is the essence of badassery and self-assurance.
Men's biker jackets attract attention due to their edgy and tough-looking details such as buckles, zips, poppers, and more. They nearly always have a collar and broad lapels that fold over or snap down. Whether you're riding your bike through the streets or going out for a drink with the fellas, the biker jacket looks terrific day or night.
Things To Know While Choosing Your Jacket: Material
Motorcycle jackets were traditionally made of leather, and many riders still enjoy the appearance and performance of the material. Many riders nowadays appreciate the fit and flexibility of jackets made of high-density synthetic materials that are both sturdy and form-fitting. Mesh/Textile or leather motorcycle jackets are the most common materials used.
How Can You Style The Biker Jacket?
Wear them with badass pieces such as torn jeans, skinny jeans, boots, or anything in black, but keep one thing in mind. Biker jackets are slim-fit outerwear that you must combine with slim-fit innerwear. Wear the biker jacket with striped slacks or chinos if you want to soften the look.
Because each biker jacket is a statement in and of itself, a less-is-more approach to dressing it is advised. Even if you're just going to the bar instead of hitting the road on a Harley, you'll look tough and ready for anything, whether you've layered it over a new white tee like the legendary Mr Brando or a cashmere hoodie for chillier days.
Shop biker jackets and more only from JACK&JONES for the best quality and style!