Best Sport Watches by Audemars Piguet & Graham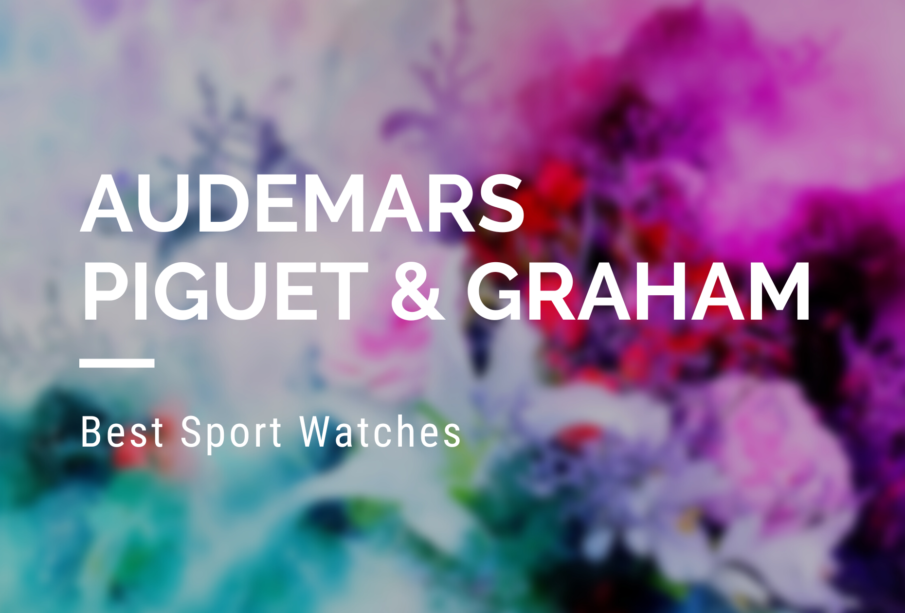 Sports watches have skyrocketing popularity since their inception in the industry. The wholehearted fanbase, mostly of watch connoisseurs, indulges in expanding their collections with varying genres of high-end luxury timepieces to decorate their wrists and showcase their style. Luxury sports watches are one such genre that can be worn to any event and place. Audemars Piguet and Graham are some popular brands that excel in this category. These brands have evolved to produce modern-day sports watches and chronographs that tell time with superior accuracy and precision movements to be used in sporting events. 
What are Luxury Sport Watches?
Luxury sports watches are timepieces crafted with an opulent demeanour while having significant resistance to most external stressors. These sports timepieces come with several complications that assist in timekeeping while engaged in different kinds of sports activities. In addition to a luxe design and refined aesthetics, luxury sport watches feature familiar elements, such as robust construction of the case, use of durable materials, and a plethora of significant complications that make each model an interesting choice for sports watch collectors. One would commonly find complications and features, such as good water-resistance capabilities, a rotating bezel, a helium escape valve, a tachymeter, a telemeter, a chronograph, and more. These guarantee a host of unrivalled elements that fits your preferences and lifestyle, and you can enjoy activities like polo, golf, watersports, motor racing, etc., using these high-end luxury sports watches from premium brands like Audemars Piguet and Graham.
Why Choose Luxury Sports Watches?
Here are the following reasons why you can choose a sports watch-
Unparalleled Accuracy and Style
The luxury sports watches are crafted with high-yielding accuracy with certified movements to keep up with your ever-changing needs. Accuracy depends from brand to brand, usually ranging between +2/-2 and +7/-7 daily. You can also explore a plethoric range of designs, accents, dials, shapes, straps, etc., in their sports watch genre to go about your quick-paced life in style.
Reinforced by the strong case and durable straps, sports watches have robust crafting. Some of these timepieces have scratch-resistant straps and cases to reduce wearing out in terms of looks and performance. These are ideal for watersports like scuba diving, swimming, etc. Many sport wristwatches are also corrosion-resistant, thus, preventing any rust or irritation to your skin.
These sports timepieces are immensely versatile and luxurious in nature. They give off a dressy and fashionable zeal while also exuding a sporty vibe. These timepieces are appropriate for professional sports activities as well as can be integrated with your look for other events.  
About Audemars Piguet Sports Watches
The founders, Jules Louis Audemars and Edward Auguste Piguet established their workshop in 1875 in the village of Le Brassus. With the rise in industrialisation, the family-owned company reflects the manufacturer's progressive thinking and stellar craftsmanship. The brand introduced its first range of versatile sporty timepieces with the Audemars Piguet Royal Oak collection in 1972, which blends fashionable crafting with a sporty build. It became the first brand to drop a luxury sports timepiece with steel accents. It continues to hold a major spot in the market, and enthusiasts are keen on adding this sporty luxury timepiece to their collection even today.
Some of the Best Sports Audemars Piguet Watches Collection Include:
Code 11.59 

Royal Oak

Royal Oak Offshore

Royal Oak Concept
About Graham Watches Sports Watches
Distinctive and reminiscent of British and Swiss values, Graham watches are the heart of Swiss watchmaking, with origins in La Chaux-de-Fonds. The brand has had traction and soared in the watchmaking industry, crafting spectacular and high-end luxury sports watches.
Collection of Graham Watches
Chronofighter Oversize- The slightly bigger dial of this sporty chronograph is an aviation-inspired range with the signature trigger placement on the left side, protecting the onion crown.

Chronofighter Superlight- The featherlight mass is the USP of the Chronograph Superlight collection. The watches feature a dial and buckle, a bezel, a carbon case, and a trigger, 

Chronofighter Vintage- The iconic collection features a trigger that allows the release of the chronograph. It offers high precision, easy to use, this luxury sports watch collection is all-encompassing.

Silverstone- With the racing DNA, Graham introduced the motor-inspired timepieces with a tachymeter on the bezel. It has bright accents and sub-dials at 12 and 6 o'clock markers displaying minutes and hours. 

Fortress- The Fortress collection comes with a mono-pusher to allow the handling of the chronograph. The timepieces are genuine English and American aviator range.

Swordfish- Dive deep into the unconventional design of the Swordfish range, which is stunning, charismatic, and a diver watch range.