SEE HOW SIMPLE IT IS TO ADD A SPA TO YOUR EXISTING POOL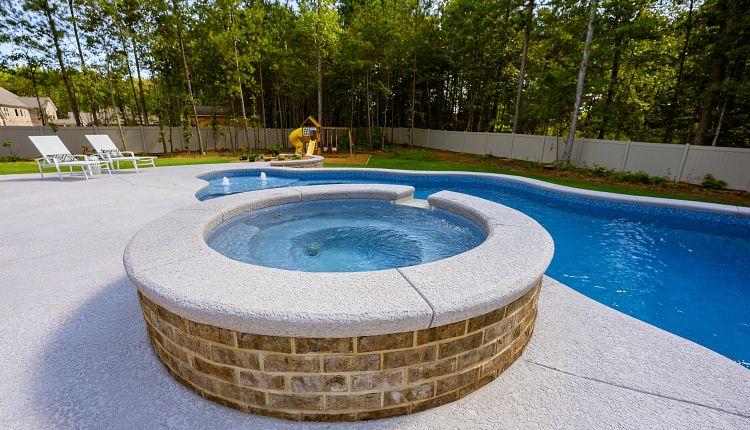 Your home and lifestyle are one-of-a-kinds. Reflecting on your personality, family, and interests, an Atlanta pool renovation is to add an attached spa to an existing pool. Your reasons for wanting a spa are distinct. Perhaps you'd like to add a spa for health reasons, or for social and entertaining purposes, as well as to improve your quality of life at home. With the addition of a spa to your pool, you'll be able to relax in privacy, spend quality time with family and friends, and feel healthier and happier at home. You and your family will appreciate the hot water, relaxing massage, and energizing hydrotherapy provided.
The connection to the existing swimming pool water circulation system is one of the immediate benefits of an attached spa. This is important because it allows the addition to blend in with the water and the design layout of your pool. With an attached spa, you can customize the lighting, spa jets, spa size, air blowers (for bubbles), and other features. A spa can be added to your pool in a variety of ways thanks to custom design and fabrication.
The Spillover Spa is the most convenient way to incorporate the addition to your existing pool. Spillover spas are classics and an elegant design choice when placed directly adjacent to the pool, allowing spa and pool water to mix. This means you only need one pump for both the pool and the spa, which reduces maintenance. The naturalistic spa, on the other hand, can be attached or detached and integrated into the backyard landscaping. Water features, rocks, and plantings are frequently used in this style of the spa to enhance the tropical-like feeling of tranquility for relaxation. It is entirely up to you to create your own ideal oasis!. Because the attached spa is typically connected to the existing pool equipment, your new spa will use the same water as the pool. The attached spa has a significant advantage in terms of maintenance: no separate testing or PH level balancing is required, making your life easier and lowering your monthly costs. 
For many homeowners, installing a detached spa is a great alternative. Perhaps you want the addition to be self-contained, or you simply want the spa to be located somewhere else in your backyard. Atlanta pool renovation contractors will not have to renovate or work with your existing pool shell if you choose a detached spa. The spa will be installed as a separate unit next to your pool or in another location.
Because the spa unit is independent, it can be placed close to your patio, in a quiet corner of your backyard, or even next to your bedroom. Many homeowners plan their landscape with various focal points and activity zones in mind. Adding an inground attached spa as a renovation, that is, after your pool has already been built, will require significantly more time and money to complete. These factors may have an impact on your decision about what will work best for you and your needs at home. Remember that because it is not connected to the existing pool, you will need to install separate pumps and filtration equipment, and chemically treat and maintain separate water. That is something that an Atlanta pool renovation company can handle.