All You Need to Know About Orthopaedics for Medical Undergrads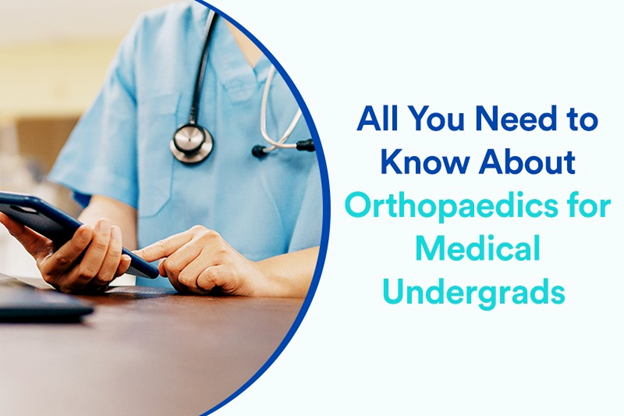 Orthopaedics is one of the most in-demand subjects amongst medical students in India. An Orthopaedic is a specialist who treats the musculoskeletal system of the human body. The bones, joints, tendon, ligaments, muscles, nerves, fluid in-between them, and skin – together create the musculoskeletal system of our body. Covering every inch of the human body, the musculoskeletal system is a complex one that impacts every body part and every organ. Any sort of abnormality in this system hampers a person's natural ability to act, walk, and move. As an MBBS student, one has to develop a detailed understanding of the overall musculoskeletal system to cure deformities, disorders, fractures, and pains. An Orthopaedics course, hence, is of immense importance. In MBBS, both surgical and non-surgical topics of Orthopaedics are covered. After completion of MBBS, a student can pursue higher studies or a career amongst either of these two based on his or her area of interest as well as skills and knowledge of the same.
What is expected from an Orthopaedic? 
After obtaining an undergrad degree, a student becomes eligible to practice as an Orthopaedic. The chief functions of an Orthopaedic include – performing diagnosis, performing and conducting screenings, adopting surgical or non-surgical methods to treat dislocations and fractures of the bone, treating injuries and pulled muscles, and treating choric diseases like arthritis and osteoporosis, tumours of the bone, birth deformities like the unequal length of legs, clubbed foot, sports injuries, back pains, bow legs, hip dysplasia, Achilles tendon injuries, trauma, spinal injuries, etc. From diagnosis to treatments, rehabilitation, prevention, slowing down the progress of invasive diseases of the musculoskeletal system, and future treatment plans, a top grade Orthopaedics Course Online covers all. Thus, an aspiring Orthopaedic can seek help from online Orthopaedics courses to further strengthen his or her core understanding of the subject as well as complex concepts of the same. Sound knowledge of orthopaedic theories and practical skills will further help an orthopaedic specialist to administer treatments after collaborating with other doctors. It is a common practice to include at least one orthopaedic specialist in medical teams or medical boards formed by hospitals for treating super complex diseases, and emergency cases.
Orthopaedics for UnderGrads
In order to approach Orthopaedics as an undergrad student, one must proceed topic-wise. Following a standard book on Orthopaedics can be a good start. A student must also attend all the lectures to grasp the concepts easily. If some classes are missed, the student can consider catching them later by subscribing to leading learning platforms that offer top-grade Orthopaedics courses. Some online courses offer top-notch orthopaedicstudy material. At the same time, a student must also make efforts to handle practical cases. Attending OPD will do the task. If not daily, students can consider assisting the orthopaedic specialists on duty in OPD once or twice a week. It is important to get first-hand exposure to a wide variety of orthopaedic cases, and also practice skills like – noting the medical history of the patient, handling modern equipment, learning about the latest techniques for treatment and diagnosis, etc. Attending OPDs enhances a student's confidence, decision-making skills, vision, focus, stamina, communication skills, team handling capacity, and coordination between one's hands and eyes.
Few tips for undergrads –
Attend orthopaedic lectures and take notes while listening.

Segregate chapters as per your learning pace and convenience

Check question patterns from previous years

Pick out the important topics and study them intensively

Follow a university-accredited book on Orthopaedics

Practice MCQs and long-format questions. Analyze the quality of answers by yourself

Stick to your study routine even if you fail to achieve your learning goals for a day or two

Look for case studies and innovations on the internet
What scopes does Orthopaedics offer? 
The field of Orthopaedicsis a constantly evolving one. With remarkable technological advances taking place every other day, as well as new surgical and non-surgical procedures researched and adopted regularly, Orthopaedics is a field that significantly shapes the modern healthcare industry. During Orthopaedics for undergrads course, a medical student is expected to stay updated with these developments as much as possible. Career options after studying Orthopaedics are – Orthopaedic nurse, Orthopaedic merchants for medical procedures or Orthopaedic products, physical therapist, sports medicine physician and Orthopaedics surgeon, medical officer, public health specialist,Orthopaedic scientist and researcher,Orthopaedic professor, analyst or consultant specializing in Orthopaedics, and Orthopaedic critical care experts. Apart from multispecialty clinics, poly clinics, nursing homes, old age homes, laboratories, research centers, and private healthcare institutions, one can also pursue a lucrative career in various public departments. Upon joining a good profile after completing higher studies in Orthopaedics, an aspirant can look forward to an extremely handsome pay package.